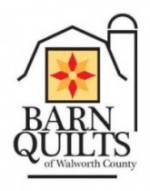 The idea of barn quilts began in Adams County, Ohio in 2001. It was conceived as a way to draw traffic off a busy four-lane highway as it wound through the economically depressed area of southern Ohio. Local artists painted traditional quilt blocks on weathered tobacco barns, and the project began to attract travelers to the area, increasing business for local establishments. In 2003, Grundy County, Iowa started a similar barn quilt project to draw traffic back to rural areas bypassed when a major highway was rerouted. Their Barn Quilt Loop is designed to highlight the agricultural heritage of the county, as well as the folk art of quilting.
The project began in Walworth County in 2009 and has continued to grow.
The Barn Quilt Project  promotes the rural heritage of the county by highlighting the architecture and history of barns and by encouraging the preservation of these structures for future generations. In turn, the project encourages economic development by promoting ag-tourism and other local businesses.
Peg Reedy, Agriculture Educator from the Walworth County UW-Extension will be sharing a presentation on the Walworthy County Barn Quilts.
Visit http://walworth.uwex.edu/agriculture/barn-quilts/ for more information about the barn quilts. There is a map and a brochure available.